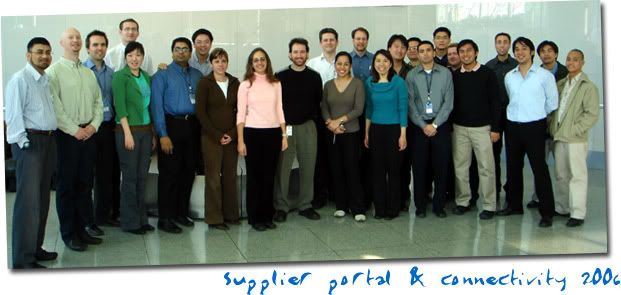 [from L-R] rehan. glenn. daniel. michal. cecilia. sudhir. owen. teresa. debbie. mark g. uwe. sheila.
claus. iris. ryann. sam. gautam. mathew. peter. paolo. michael. simon. cheng. gm.
It all went by in a blur....
:: monday :: karaoke night at Take One Karaoke. funny how they asked for Iris's ID and I was like "whaaaaat?!? but she's waaaay older than me!" + the pig-out midnight snack: 50-piece chicken wings at
Hooters
on Adelaide St. :: tuesday :: steaks at
The Keg
at
Sheppard Centre
+ belly dancing at
Sultan's Tent
:: wednesday :: gautam's chicken-filled dinner at the
Biryani House
on Wellesley (did they even serve anything without chicken?) + almost drowned in toilet paper while watching the
Blue Man Group
at the Panasonic Theater. The show was rather disappointing, though. Paolo, the Incredible Sleeper, slept right through it. Hahaha. + after-theater drinks with the EMEA folks :: thursday :: go-kart-all-you-can at the
401 Mini-Indy
-- my goal was to beat Glenn and Mark T. (yes, I have lofty dreams :P ) + debbie almost dislocated her thumb, though :( + another pig-out dinner at the
Mandarin
in Mississauga -- I will always remember Peter as that guy who ate a whole plateful of Jello topped with blue bubblegum ice cream. Haha. :: friday :: 60 laps of go-karting hurts like hell! + the boys watched a Raptors while Iris and I went for a swim at the Harrison Pool +
Dufflet
cakes at the
Queen Mother Cafe
.

Someone spent the whole week at Brass Rails, though. ;)