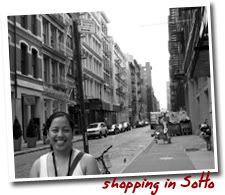 ♠ Someone is probably bound to kill me for having such a bad case of tourist
tamaditis
in New York (of all places), but I haven't really done anything here except shopping. There I was next to Ground Zero (the World Trade Center site) and the New York City Hall, but I bypassed those and somehow ended up buying a new digicam at
J&R
(my favorite geek store in NY -- just imagine, a whole block of gadgets and gizmos!) and a new pair of shoes at
Century 21
instead. I am officially bankrupt.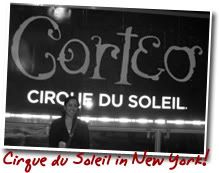 ♠ In other news, I saw Keri Russell! My sister and I were exploring SoHo, and she had just pointed out the
Dean & DeLuca
where
Felicity
(from the defunct TV show of the same name) worked... when fifteen minutes later, Keri Russell saunters past us doing some shopping of her own. Cool. I shop where Felicity does! I'm
cono!
:P
♠ I had been a bit disappointed about missing
Cirque du Soleil
's
Delirium
in Toronto (they were touring Toronto the day I left), but as luck would have it, I was in town to catch the last few days of
Corteo
in New York... and my sister had tickets! Hooray! The show's synopsis says it takes place in "a mysterious space between heaven and earth", and that was exactly what it felt like. It was surreal.