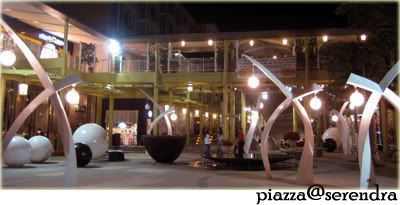 If you've been out and about the metro, then you've probably heard about the flock of new restaurants at the newly-opened
Piazza @
Serendra
. Being exiled to the
Ortigas
office has slowed down my attendance rate for new
hotspots
in the metro, so it took a workday in
Makati
for me to finally make my way to
Serendra
.
Being the
sugarholic
that I am, I immediately made a beeline for
Cupcakes by Sonja
. My previous experience with cupcakes being Pan-A-Cup cupcakes you could get at your nearest
suking
tindahan
, I was curious about what these much-hyped cupcakes would taste like. The tiny shop looked like those candy shops I'd fantasized about as a child-- pink striped walls, giant peppermints hanging from the ceiling, and a display case filled with the
prettiest
cupcakes I'd ever seen. They have 27 kinds of cupcakes, with prices ranging from
PhP
48.00 for the
Vanilla Sunshine
to a whopping
PhP
130.00 for the
Heavenly Pistachio
and
Sweet Pleasures
cupcakes. I picked the prettiest cakes out of the bunch and happily walked out with six cupcakes in their dainty powder blue box.
Undeniably, all of the cupcakes looked gorgeous... but how did they taste? It was really a case of hit-and-miss. The
Melt-In-Your-Mouth

Flourless

Chocolate Cupcake
(described as "a dense
Valrhona
flourless
chocolate with rich, velvety texture") was absolutely divine, but the rest of the cupcakes were nothing out of the ordinary. Yes, they were indeed different from the cupcakes we're used to, but then again, at
PhP
50-130 you could also get an equally delicious (and larger) slice of cake.
Cupcakes by Sonja
is worth a try, but in the end you're just paying extra to get your cake in a cup.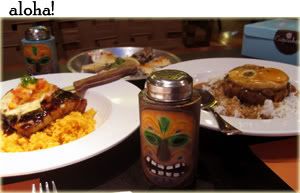 Up next was dinner at the Hawaiian-inspired
Polu

Kai Grill
. I came in hoping to learn what Hawaiian food was all about, but
Polu

Kai
's menu leaves much doubt as to whether they serve authentic Hawaiian cuisine. The menu seemed more like a fusion of American and Asian dishes than anything particularly Hawaiian, but... I've never been to Hawaii anyway so I can't really tell. :P
We had the baked oysters, the Giant Squid Steak, and the Loco
Moco
(basically a Salisbury Steak topped with a fried egg). I liked how tender the squid was despite how thick it was, and the grilled flavor of the Loco
Moco's
burger reminded me of my favorite burgers from the
Utopia Cafe
in Toronto.
The menu isn't as fresh and adventurous as I'd hoped it would be -- in fact, it's very simple fare, but I found it quite tasty. Prices are a bit hefty at
PhP
350 up for the main courses, but if you have
carnivorous
fantasies of sinking your teeth into inch-thick burgers and squid steaks (roar!),
The
Polu Kai Grill
is a mighty contender.
*Cupcakes by Sonja and The

Polu

Kai Grill are located at the
Serendra

Piazza
,

Bonifacio

Global City,

Taguig

.