I have curly hair.
For the longest time, I hated it -- it was dry, frizzy, and unruly. I spent my childhood dreaming of having straight hair, but no matter how many hair products & treatments I tried, my hair just seemed to have a mind of its own.
Now that I'm older, I've learned to embrace my curly hair. Unfortunately, most salons haven't -- the minute I walk into a salon, there is
always
someone trying to convince me to straighten my hair. An hour or so of annoying salestalk later, they try a last attempt to convert me by insisting on blow-drying my hair straight. Which I absolutely detest. With hair as curly as mine, blow-drying my hair straight means ending up with: a) my hair pulled out of my scalp by attempts to brush out the kinks; and b) my scalp burning from the amount of time spent under the blow dryer.
So I was pleasantly surprised when I walked into the
Azta Urban Salon
at
Metrowalk
and didn't get a single comment about straightening my hair. Not only that, they actually knew how to handle curly hair -- from the wide-toothed comb they ran through my hair and the diffuser used to dry it.
Hallelujah!
I totally digged that squeeze bottle shampoo and the
Davines
hair color, too!
I walked out of that salon with a spring in my step and even more spring in my curls! :)
***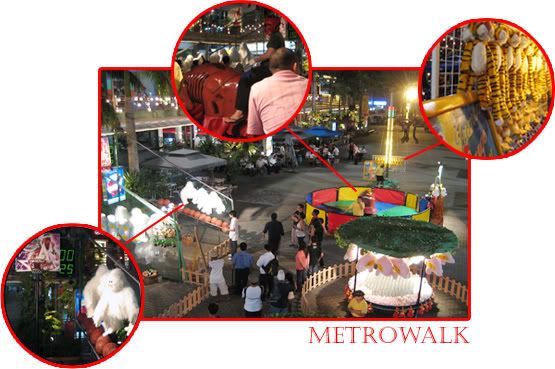 In case you haven't been to
Metrowalk
recently, do check out their urban take on the traditional
perya
. (Did you know that
Metrowalk
was built over what was previously the
Payanig sa Pasig
?) Win your girlfriend (or boyfriend) a stuffed toy by tossing coins on a table, shooting hoops, hammering all your stress away, tossing rings over bottles, and riding a bull cowboy-style.
Kulang na lang cotton candy! Weee!
*Azta Urban Salon has branches at Metrowalk (2nd Level, Metrowalk Commercial Complex, Meralco Avenue, Pasig), Katipunan (2nd Level, SMRC Building, Katipunan Ave., Loyola Heights, Quezon City (in front of Miriam College)), Robinsons Metroeast (Body Senses, 4th Level, Robinsons Metroeast, Marcos Highway, Pasig) and Eastwood City (2nd Level, City Walk 2, Eastwood City, Libis (above Starbucks and A Different Bookstore)).