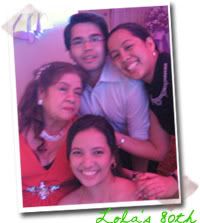 When I was young, I had all these children's books that depicted grandmothers as little old ladies with sweet little smiles and eyeglasses perched on the tips of their nose, carrying a basket of freshly baked cookies and knitting sweaters for their grandchildren.
I always thought I was losing out on something because my lola is nothing of that sort.
Now that I'm older, though, I've come to appreciate the fact that I have such a groovy grandmother. She's a not-so-little old lady with a sweet little smile, who calls J. Lo "Jello", has an addiction to Koreanovelas, has a crush on Marc Nelson, and encourages me to "collect and collect then select!" men.
She's been in the hospital for over a month now, bedridden due to complications with her recent surgery. Dreariness of the situation aside, visits to my lola always gives me a good laugh.
Last Sunday, my sister and I walked into her hospital room to find her talking to a nurse:
Lola:
Sigurado ka ba diyan sa gamot ko? Baka mamaya masakit yan ha!
Nurse
:
Opo, Lola! Hindi masakit to, araw araw naman kita binibigyan nito e.

Lola
:
Sigurado ka ha, pag masakit yan sisipain kita!
Nurse
:
Okay lang, lola, basta po left leg yung gamitin niyo ha!
(my lola can't move her left leg yet due to her surgery)
Lola
: (thinks, then frowns)
Ay ang daya mo!!!!
(brandishes her fist)
Susuntukin na lang kita! diyan e!
When I get well... I will come back for you!
Yep, that's my grandma. Bedridden but still feisty as hell.
Now, you can't get 81-year-old lolas like that anywhere.